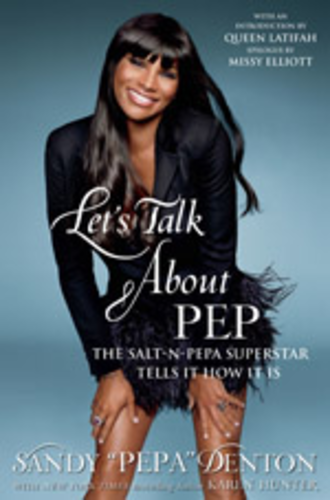 New York, NY – Pepa is the spiciest ingredient in the legendary rap group Salt-N-Pepa, and the outspoken star of VH1's smash-hit reality show. She's Sandy "Denton"—she's never at a loss for words. In her new book LET'S TALK ABOUT PEP (VH1/Pocket Books; September 2008), she bares all, telling her side of the story and leaving no detail unturned-- with the true candor and raw emotion of someone who has been there, done that, and survived.
For the first time, Pepa talks about her troubled childhood, surviving abuse, her first encounters with Cheryl "Salt" James, her failed marriages and her escape from domestic abuse, her "breakup" with Salt and their eventual "reunion", her triumphant comeback on the VH1 reality shows The Surreal Life, Fame Games, and The Salt-N-Pepa Show, and more.
To accommodate the book, Pepa has launched her very own social network and online fan club at
www.LetsTalkAboutPep.com.
The site allows old school hip-hop fans to connect with each other, and stay up-to-par with her latest happenings. Users can join for free and interact with related news, blogs, forums, events, groups, photos, and video. The site is powered by Connect Platform, an exclusive service of Lee Moss Media.
About Pepa
Sandy "Pepa" Denton became the "Pepa" in Salt-N-Pepa in 1986. The group went on to become one of the most significant rap groups of all time, selling millions of records and winning numerous awards and nominations. Denton continued to grow with acting roles in movies, television, and with her top-rated program The Salt-N-Pepa Show.
For more details about her and/or her book, visit:
www.LetsTalkAboutPep.com
PRESS CONTACT:
Dante Lee
dante@diversitycity.com
614-595-6063
Posted By: Will Moss
Tuesday, August 26th 2008 at 4:24AM
You can also
click here to view all posts by this author...